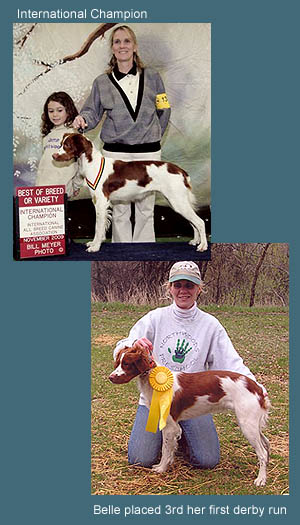 International Champion
Dr Jac's Bazooka Belle MH
"Belle"
OFA Good
Member of the St. Croix Valley Brittany Hall of Fame

Belle is from Mort's last litter of 4 pups sired by DC Layfayette's Border Baron UDX2 MH. Baron is a wonderful representation of the breed excelling at all levels of competition to learn more about Baron click here. One of Belle's grandfathers is the famous DC/AFC Masked Shoshoni War Chief and she is a double great grand-daughter of NAC/DC/AFC Renegade's Kansas Kid. She is a very heavy Bazooka line cross. Belle is very smart and beautiful like her mother and very bold. She goes completely insane on birds. Belle had a great trip last fall to North Dakota and Iowa, pointing many wild pheasants.
For Dr Jac's Bazooka Belle Pedigree
CLICK HERE
About Belle:
Belle is a Master Hunter, trained and campaigned by Chad Hines of Willow Creek Kennels. Belle also has multiple juveinelle field trial placements as well as 2 adult points in Amatuer stakes.
Belle is an International Show Champion and as well as a Juniors dog in Junior Showmanship. She will continue to help the kids in the ring.
Belle's pups in competition out of Yoda - Dr Jac's TruGrtiz Master Yoda O'Dee
-Dr Jac's Miss Maggie O'Dee "Maggie" AKC field trial puppy points, multiple juvenile placements
-Dr Jac's Redneck Rampage O'Dee "Bubba" multiple AKC field trial placements in puppy & derby. AKC show pointed
2nd LITTER
Belle's pups in compeition out of "Duffy"- CH Bantams Bravo Duffy
-Dr Jac's Rumor Has It "Coco" future star in training
-Dr Jac's Ruby Tuesday "Ruby" AKC show pointed, Best in Sweepstakes Winner
-Dr Jac's Must Have Been the Roses "Taters" AKC show pointed
-Dr Jac's Hayley "Hayley" future star in training

---